.. home .. bands & artists .. london the band
London The Band
Original punk rock band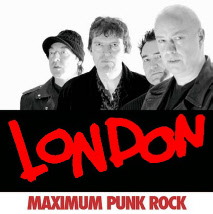 London The Band
Reformed in February 2008, more than 30 years after playing their last last gig at the Marquee in Wardour Street, punk rockers LONDON have been busy gigging all over the place and writing new material. Steve Voice and Riff Regan are the two original members and they've now been joined by Hugh O'Donnell on guitar and Colin Watterston on drums. Check out their website where you can see loads of videos and hear samples of their music.
---
Gig List:
Shortcut to this page: www.andovergigguide.co.uk/londontheband
Please note: As per our terms of use, the events listed below are not in our control, so they could be changed. Also, some venues may charge an entrance fee to certain music events. In either case, we recommend that you contact the venues before making your arrangements.
No forthcoming events to display for this band or artist: London The Band.

Although we don't have anything listed, it could just be that we haven't been informed of planned events, so please visit the website or Facebook page for London The Band to check for forthcoming events:

Website: www.londontheband.com
Facebook: www.facebook.com/pages/London/56299668102

If you know of a gig coming up for London The Band that we can list on the guide, please let us know.
You are visitor 166611
---
Logged in: Guest